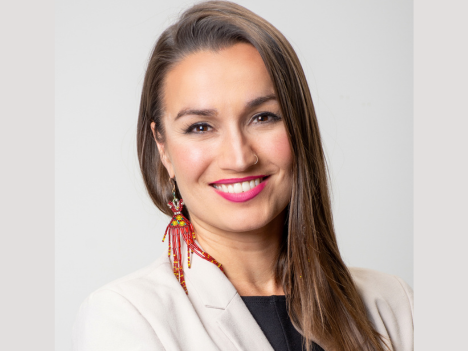 What brings Candice to the ORCC:
The pursuit of gender justice and unpacking what it means to be truly intersectional have brought me to the ORCC during this pivotal time in the organization's history. The ORCC's roots are based in the feminist values of centering the voices of survivors of sexual and gender-based violence. The ORCC is now poised to innovate and reimagine how to provide accessible trauma-informed supports, especially to those from communities that have been marginalized. This is a time for meaningful change for the ORCC and I am honoured to be part of it.
Candice's Background:
My career to date has focused on strategies to address broader colonial structures that have marginalized Indigenous women, girls, 2SLGBTQQIA people, their families, and their communities, both across Canada and globally. My PhD work focuses on the gendered experiences of an Indigenous community in Mexico experiencing land dispossession and forced migration.
Prior to joining the ORCC, I was the Director of Violence Prevention & the Missing and Murdered Indigenous Women, Girls and 2SLGBTQQIA+ People (MMIWG2S+) policy area at the Native Women's Association of Canada (NWAC). As part of this work, I sat at the federal tables to advance the rights of Indigenous women and 2S people for the MMIWG2S+ National Action Plan, as well as the Gender-Based Violence National Action Plan. Through this work, I have witnessed and felt deeply humbled by the courage, lived experience, and knowledge shared by the Elders, grandmothers, Knowledge Keepers, survivors, families, and the communities with whom I have worked. For this I am deeply grateful—Chi Miigwetch. In my work moving forward, I will continue to honour the lessons I have learned from these relationships.
What Candice is most looking forward to:
I am excited to be with the ORCC during this time of renewal. I am eager to continue to work with the community to think differently about what supports for survivors should look like in this rapidly changing landscape. I am enthusiastic about building meaningful partnerships to ensure impactful service delivery, while simultaneously advocating for broader systems change in a sector that has historically been under-resourced and continues to be to this day. It is a privilege to be part of the momentum to broaden the ORCC's reach as it develops and implements new strategies to effectively serve BIPOC folks, the trans community, newcomers, the differently-abled, the economically marginalized, and rural residents.
It is time for meaningful change and I am excited to be part of an organization that will help to shape the best practices in service delivery for survivors of sexual and gender-based violence for decades to come.